Here is another installment of 5 Things I am lovin'.
1. Jillian Michaels
I got the option to try Jillian Michaels website for free for 4 weeks. I have always loved her on The Biggest Loser, but I have never been a big weights person. Also, with the holidays finally coming to an end, I noticed my eating habits were less than stellar. So I signed up and it's been pretty good. I am not following it exactly, because most of her meals are not vegetarian or vegan, but it gives me an idea of how I should do my meals. I think I need more protein in them really. I am following for a
balanced oxidier
, according to her quiz. Like I said, I am not going crazy trying to make what she is recommending, but using it as a guide to how much I should be eating. And I have been adding protein to most of my meals and snacks. It helps for a while, but I am just not a big protein person so after a week, I just want some cereal. :) I am also doing some of the circuit training she recommends. I know I can't do 4 days of circuit training (being that I am running 3-4 days a week training for the half), so I am trying to do as many days as I can. I usually can't finish it but I do as much as I can. It helps me get in 3 days of abs though, so that is good.
2. Detox Salad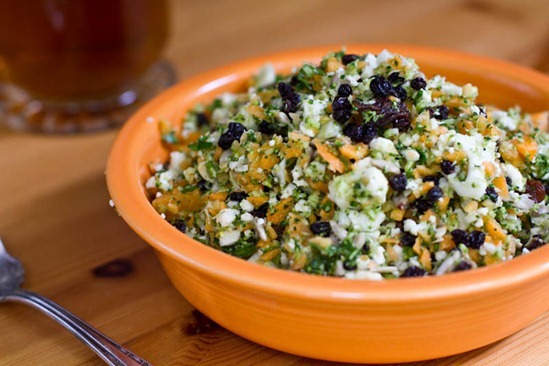 I found this
recipe
over at
Oh She Glows
a while back and have made it several times now. It was a great way to start the New Year off right. It is a delicious, nutritious salad that is nice and light. It's a great way to start off a meal. I make a big batch and it lasts for a week. No one else in my family really cares to even try it (I might be able to get the little lady to try it if she sees me drizzle maple syrup over it). I used my new food processor to shred almost all of the ingredients, so it didn't take nearly as much time as before. I made it a couple of weeks ago already and can't wait to do it again. Yum! Thanks Angela for finding this one.
3. Multigrain tortillas
I am in love with these right now. They are low in calories, multrigran, but soft! I always find the whole wheat tortillas are hard and don't bend as easily. Not these, they are great. I can't say enough good things about them. Oh, did I mention, they aren't expensive either. I find them at Kroger in the international foods isle. Stock up people, they are delicious!
4. My new shoes
I love it when fashion intersects with mom friendly. I scored these boots as a Christmas present for myself via Christmas money. I love the no heel so I can wear them out and still run after children, carry them, etc. without having to worry about anything. I went with brown because I already have a lot of black boots and I scored a sweet deal on them as well.
I decided to get 2 new pairs of running shoes, my tried and true Mizuno Wave Creations, but also a pair of Mizuno Wave Riders. The wave riders are over an ounce lighter but are still somewhat supportive. Both were on sale (got the older version of both), but the wave riders were only $60 which is what pushed me to try them. I have been running in them for almost a month and really love them. Of course no long runs in them, but I will probably save my long runs for the creations. Now those puppies have some cushion. I have not had any feet problems since using my Mizunos.
5. NBC's The Firm
As I was looking for a great picture of this, I found out that it is likely to be cancelled. :( The hubs and I did not start watching it when it first came on, but we watched a couple of episodes over the weekend OnDemand. I personally fell in love with it. I wasn't expecting to like it so much, but I am hooked. I am so sad that more people aren't watching it. If you haven't seen it, give it a chance and watch one episode.
What are you lovin' right now?